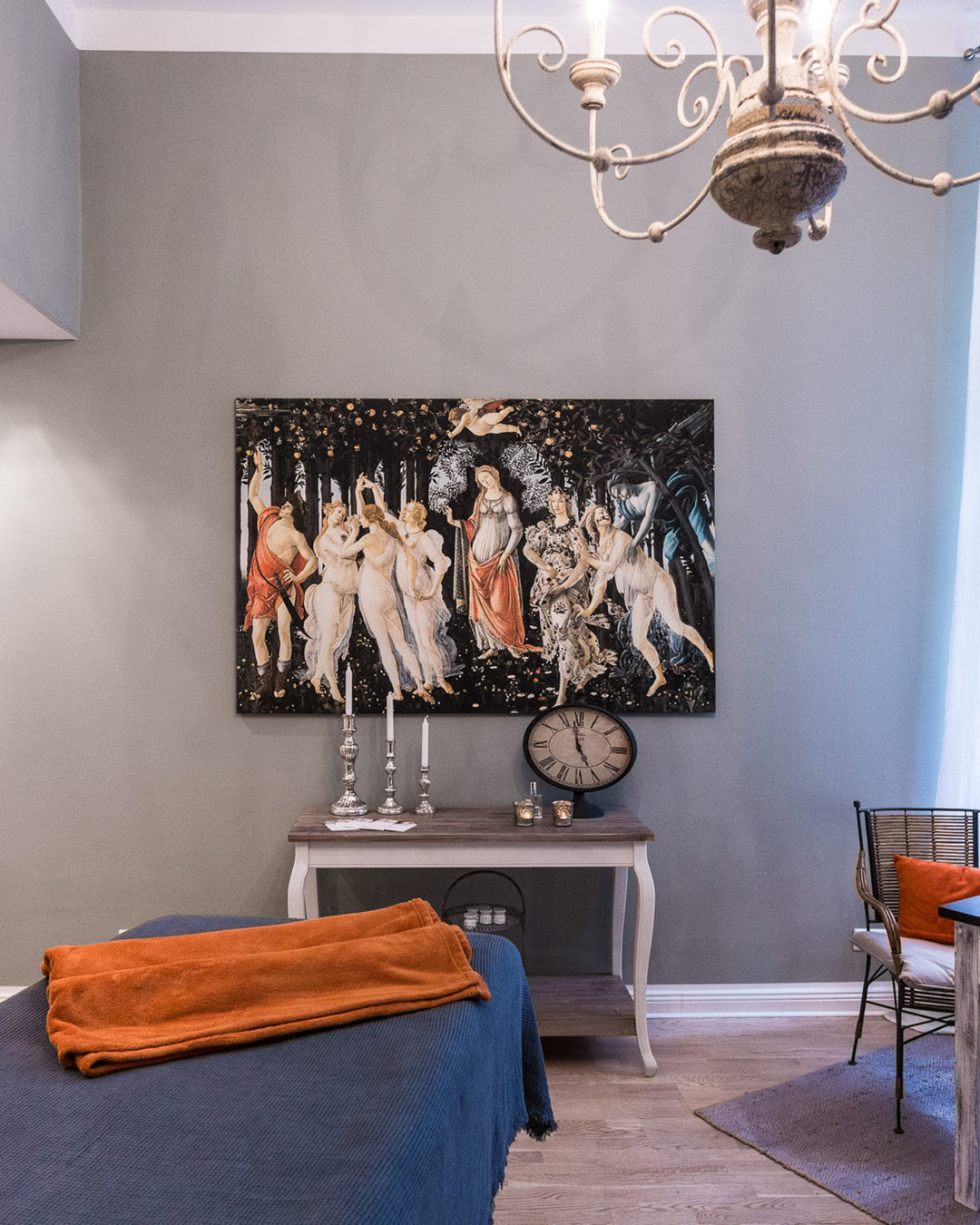 Saint charles complements and hideaway menu
We are very pleased,
To welcome you to our SAINT CHARLES Complements and Hideaway. Your place for organic beauty products, natural cosmetic treatments and loving home accessories. We are here exclusively for you and will be happy to advise you on your choice of treatments.
You can reach us at: 030 88626341 or complements@saint-charles.eu
SELECTED NATURAL CARE
The unique symbiosis of pharmacist knowledge and holistic natural treatment methods enables our qualified beauticians to provide individual advice and professional treatment. 
SAINT CHARLES HERBAL TREATMENTS. All treatments are carried out with the purest, highly effective products from the natural cosmetics line "HERBAL APOTHECARY FACECARE". We rely exclusively on proven formulas with natural active ingredients from herbs such as yarrow, wild mallow, pansies, lemon balm and lime blossom. Through the effectiveness of these European medicinal herbs, which was discovered centuries ago, the Herbal Apothecary series achieves a balancing effect for all skin and age groups. The skin gets the impulse to regulate itself and regain its balance.
With PHARMOS NATUR you experience the unique, regenerative effect of selected and adaptogenic healing & rejuvenating plants. The highlight in your PHARMOS NATUR treatment is the application of the aloe vera fresh plant leaf. For radiant, wonderful skin and pure well-being.
THE ORGANIC PHARMACY is luxurious-organic high-tech system care that combines the latest findings of science with the highest quality organic-certified raw materials and plant extracts. For a luxurious holistic beauty ritual that relaxes and revitalises both the skin and the soul.
BEAUTY TIME OUT
Each treatment begins with a detailed anamnesis and skin analysis. Determine together with your beautician, which skin needs are close to your heart and which care line is suitable for you.
BASIC TIME OUT 60 MIN. 98 €
VERSE TIME OUT 90 MIN. 148 €
EXCLUSIVE TIME OUT 110 MIN. 198 €
CITY TIME OUT 45 MIN. 78 €

EXTRAS*
Skin analysis 35 € excl. treatment
Eyebrow correction from 10 € excl. Treatment
Eyebrow tinting 10 € incl. treatment 18 € excl. treatment
Eyebrow tinting 10 € incl. treatment. Treatment 18 € excl. treatment
Waxing (face) 15 € incl. treatment from 25 € excl. treatment
Waxing (face) 15 € incl. treatment from 25 € excl. treatment.
Serum on Top 10 € incl. Treatment
*All Beauty Extras can be booked in addition to the Beauty Auszeit.
WELLNESS MASSAGES
Partial and full-body massages with exquisite oils from controlled organic farming and wild growth. The aromatic organic oils from the SAINT CHARLES in-house production awaken all senses and promise deep relaxation.
Classic Massage
Back - Neck - Shoulder
25 MIN €38
Anti-Stress Massage
30 MIN €45
Full-Body Massage
60 MIN €88
Full-Body Massages
90 MIN €138
Sports Massage
60 MIN €98
Hot Stone Massage
70 MIN €108
Reflexology Massage
45 MIN €68
Signature Massage
60 MIN €108
Signature Massage
90 MIN €120
Surrounded by natural aromas and gentle touches, you will experience deep relaxation and well-being for body, mind & soul during a treatment.