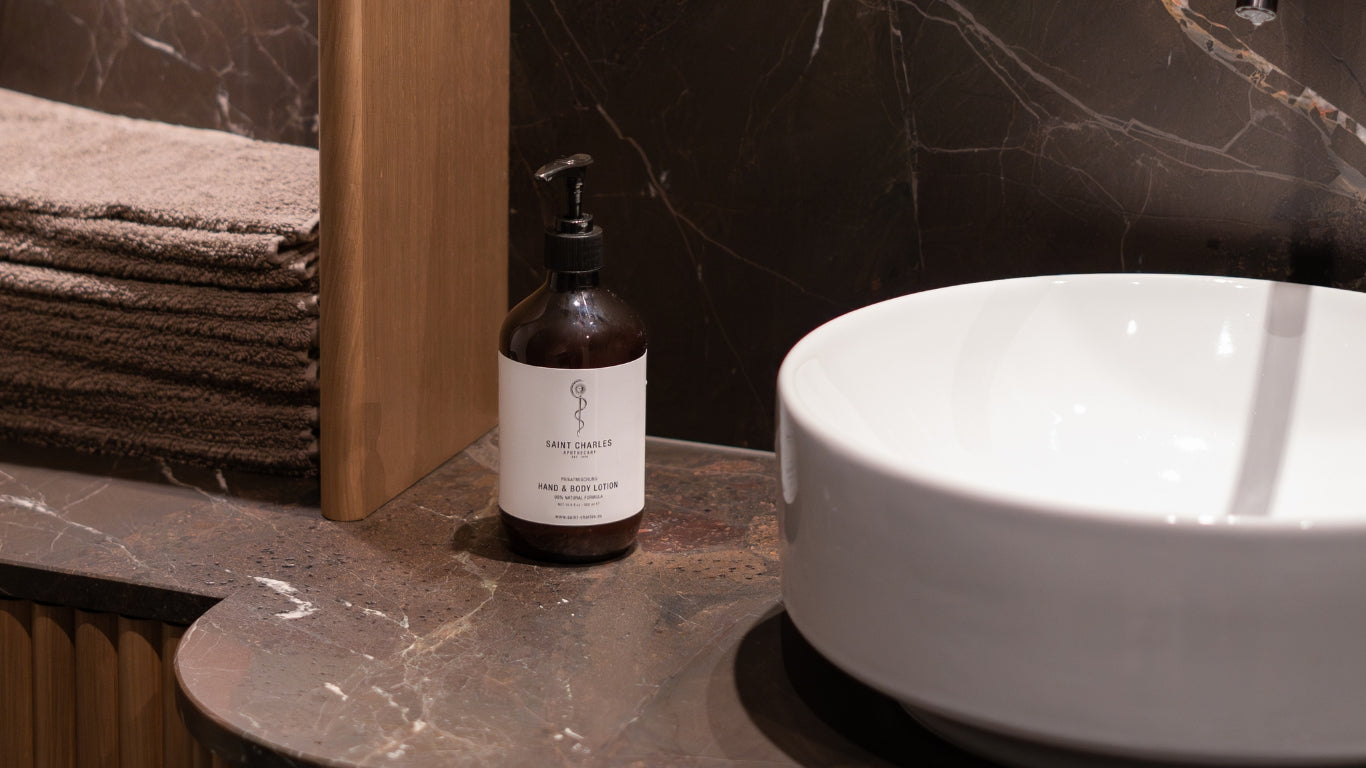 PRIVATMISCHUNG SAINT CHARLES
Inspired from a hike in local gardens, forests and mountains, the apothecary's private blend was once created. Refined for many years - yet private. The extraordinary fragrance of this journey is dominated by mountain pine and basil, elegantly combined with the tangy fruity notes of grapefruit and juniper. A sensory journey with highly effective essential oils. Produced in the SAINT CHARLES manufactory and seen in SAINT CHARLES pharmacies, at selected partners and in exclusive hotels around the world. Simply.Being.Private.
PRIVATMISCHUNG SAINT CHARLES: WIRKSAME KOSMETIKA
Inspiriert von einer Wanderung durch heimische Gärten, Wälder und Berge entstand einst des Apothekers
Privatmischung Saint Charles.
Viele Jahre verfeinert, lange Zeit privat – und jetzt endlich erhältlich. Apotheker Alexander Ehrmann folgte bei der Kreation der
Privatmischung Saint Charles
seiner Passion für die Entwicklung hochwertiger und wirksamer Kosmetika. Tradition und uraltes Wissen, vereint mit Kräutern, die direkt vor unserer Nase wachsen, in Kombination mit modernen Erkenntnissen: right to the roots.Die
Privatmischung Saint Charles
basiert auf Nachhaltigkeit und dem simplen Ansatz, Ursprüngliches zu bewahren und zu nutzen. So wurde in der
Privatmischung Saint Charles
der außergewöhnliche Duft der Sinnesreise durch die Natur eingefangen: befreiende Latschenkiefer und stimmungsaufhellendes Basilikum, elegant kombiniert mit der spritzig-fruchtigen Note von Grapefruits und kräftigendem Wacholder. Natürlich aus kontrolliert biologischem Anbau.Enthält folgende hochwirksame ätherische Öle (aus kbA): Latschenkiefer: Wächst in den extremen Höhen der Alpen. Duftet mild – waldig – frisch!Wacholderbeere: Gehört zur Familie der Zypressen. Duftet würzig, fein, balsamisch.Basilikum: Bekannt aus der Küche, aber eines der wichtigsten Heilkräuter. Wirkt entspannend, manchmal aphrodisierend. Der Duft ist kräftig und intensiv, balsamisch, frisch- süß, leicht und würzig.Grapefruit: Ein Hybrid aus Pampelmuse und der süßen Orange. Duftet frisch, hell und etwas herb.
PRIVATMISCHUNG SAINT CHARLES - BELIEBT BEI PREMIUM HOTELLERIE BETRIEBEN
Das Hotel Andaz setzt bei der Ausstattung der Zimmer und Suiten auf unsere
Privatmischung Saint Charles.
Die beliebte Pflegelinie passt perfekt in das Konzept des Hotels - sie steht für Tradition und altes Wissen, im Einklang mit Kräutern aus heimischem Anbau und kultiviert mit modernem Wissen. Die Pflegeprodukte fangen den außergewöhnlichen Duft einer Sinnesreise durch die Natur ein, verpackt in Flaschen im klassischen Apothekerdesign, kann die einzigartige
Privatmischung Saint Charles
ab sofort in allen 303 Räumen verwendet werden.
LEIDENSCHAFT LIEGT IM DETAIL - HOTEL MOTTO X SAINT CHARLES
Im Herzen von Wien, mitten an der bekannten Mariahilfer Straße gelegen, hat mit dem neuen Hotel Motto ein außergewöhnliches Boutique Hotel eröffnet. Es verbindet den Pariser Flair der 20er mit modernem Wiener Lebensgefühl und skandinavischer Gemütlichkeit. Das Haus verkörpert durch sein perfekt abgestimmtes Gesamtkonzept den neuen Zeitgeist von wahrem Luxus. Das klare Motto ist "Leidenschaft, die der Gast spürt".Es ist Leidenschaft, die das neue Hotel Motto mit Saint Charles verbindet. Außergewöhnliche Hotelkonzepte verlangen nach außergewöhnlichen Produkten. So findet man in den edlen Badezimmern des neuen Boutique Hotels exklusive Naturkosmetik von Saint Charles. Gäste werden mit einzigartigen Duftkompositionen der
Naturkosmetikserien "Privatmischung"
und "Wild Roots" verwöhnt. Diese basieren auf natürlichen, ätherischen Ölen von reinster Bio- Qualität. Während die Privatmischung belebenden Latschenkiefer und Basilikum elegant mit spritzig-fruchtigen Noten von Grapefruit und Wacholder kombiniert, überzeugt "Wild Roots" mit einer harmonischen Symphonie von Rosmarin, Orange und einem Hauch von Zitrone. Das beste kommt zum Schluss: Denn Seife, Duschgel & Co können mit unserem innovativen Refill-System einfach immer wieder befüllt werden, um unnötigen Plastikmüll zu vermeiden.Die Serie
Privatmischung Saint Charles
ist jetzt exklusiv in der Saint Charles Apotheke Wien, Berlin, im Online-Premiumshop und bei ausgewählten Partnern erhältlich. Und zum Erleben auch in einigen ausgewählten Top-Hotels in den Alpen. Die Naturkosmetik-Serie Privatmischung Saint Charles besteht aus Handseife, Duschgel, Shampoo, Körperbalsam. Jeweils verfügbar im 500 ml Apotheker-Pumpspender.Falls Sie noch weitere Fragen zur Privatmischung oder anderen Produkten haben, sind wir selbstverständlich für Sie da. Kontaktieren Sie uns
hier
ganz einfach dafür, wir freuen uns auf Ihre Anfrage.