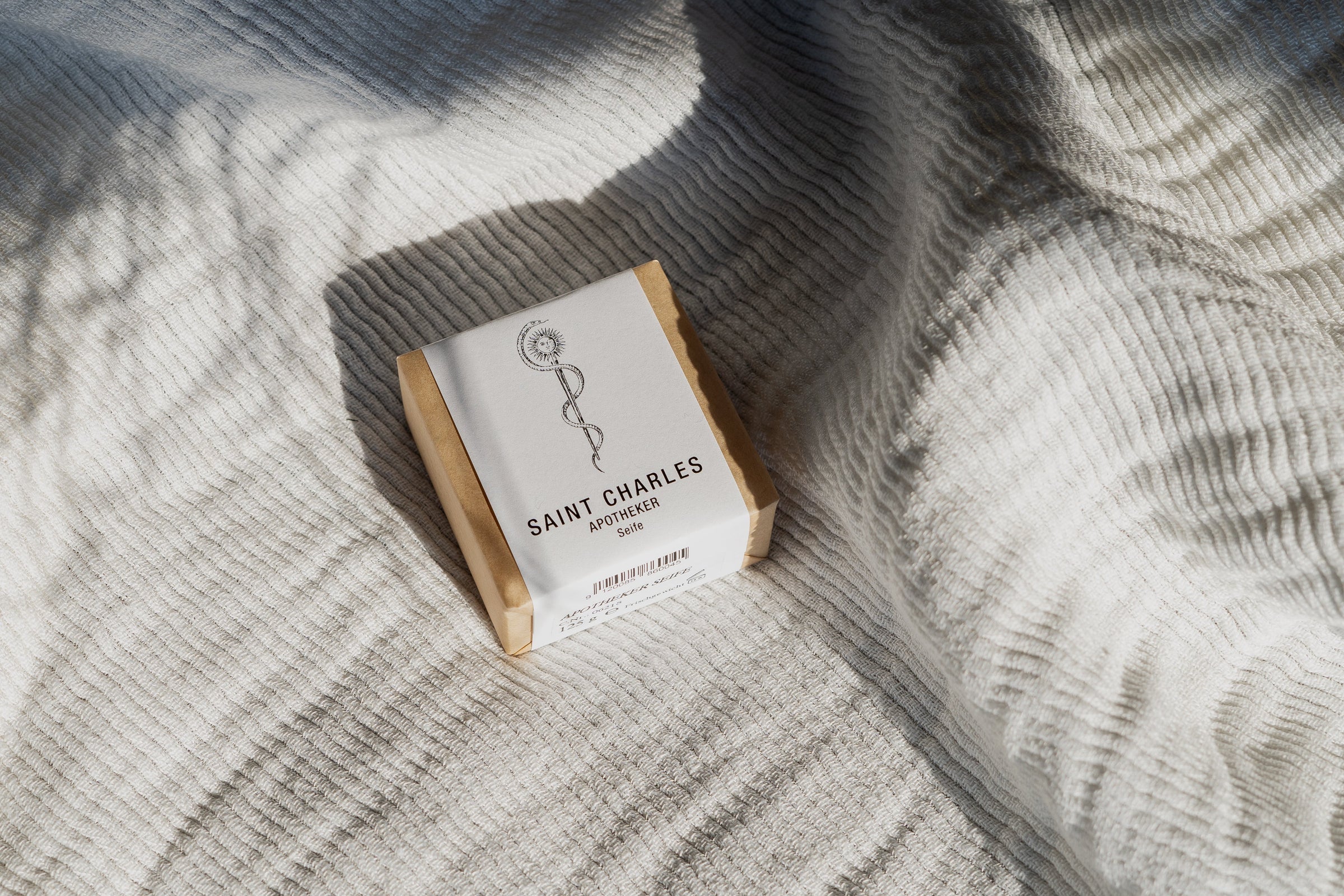 APOTHEKERSEIFE & APOTHEKERSPRAY
The Pharmacist's Soap and the Pharmacist's Spray have become Saint Charles classics and have been tried and tested and popular with our customers for many years. In addition to natural, effectively cleansing substances, this natural cosmetics series contains a special combination of organic essential oils (from organic farming), which have proven their antiviral and antibacterial potential. The resulting extraordinary fragrance blend refreshes and invigorates the senses.

SAINT CHARLES APOTHEKERSEIFE | DIE STORY
Kann eine
natürliche Flüssigseife
zum Kultobjekt werden? Kann eine Epidemie etwas Neues, Besseres schaffen? Wir traten den Beweis an. Unbeabsichtigt. 2008 erreichte die Vogelgrippe in Österreich ihren Höhepunkt. Panik machte sich in der Bevölkerung breit. Scharen von Menschen stürmten die Apotheken auf der Suche nach einem wirksamen Mittel, um sich gegen die gefährliche Grippe zu wappnen. Da die Viren sehr leicht durch Berührung übertragen werden können, kam Apotheker Alexander Ehrmann auf die Idee, eine eigene
natürliche Apothekerseife
zu komponieren, welche mit
ätherischen Ölen
Keime bekämpft. Bisher waren solch starke Seifen, meist chemischer Natur, nur als "Arztseifen" bekannt. Alexander Ehrmann wollte jedoch ein eigenes, absolut natürliches Produkt für die Saint Charles Apotheke kreieren und folgte seiner Passion, hochwirksame, natürliche Produkte für den Alltag zu entwickeln. So entstand die
Saint Charles Apothekerseife
.
REINIGEN MIT DER NATUR –
APOTHEKERSEIFE MIT ÄTHERISCHEN ÖLEN
Auf der Suche nach natürlichen Substanzen mit keimabtötendem Potenzial wurden daraufhin verschiedenste
ätherische Öle
auf ihre Wirkung analysiert. Nur aus den Wirkungsstärksten entstand eine einzigartige Mischung. Dabei spielen die
ätherischen Öle
von Thymian oder Nelke eine zentrale Rolle. Studien belegen, dass diese Öle in der Lage sind, ein sehr breites Spektrum an Bakterien und Viren binnen kurzer Zeit zu neutralisieren. Eine Rückbesinnung auf die Kraft und Komplexität der Natur, die in der Lage ist, gegen ebenso komplexe Bakterienstämme erfolgreich anzutreten. Pflanzen, die über teilweise Millionen von Jahren durch Anpassung überlebt haben. Einige Jahre ist es jetzt her mit der Vogelgrippe und das Bewusstsein für die Notwendigkeit von desinfizierenden Mitteln zum Schutz vor Bakterien ist immer noch in aller Munde. Nur durch häufiges Händewaschen sowie regelmäßige Reinigung der Hände und Räume kann wirksam gegen gefährliche Bakterien- und Virenstämme vorgebeugt werden. Der Duft? Der entstand durch Zufall. Das Zusammenspiel aus feuchtigkeitsspendendem Aloe Vera Bio-Frischsaft und
ätherischen Ölen
, wie Thymian und Nelke, führte zu einem einzigartigen Dufterlebnis. Später folgte die Verfeinerung der natürlichen Duftnoten durch den Wiener Parfumeur Lederhaas, der als Aromaexperte der
Saint Charles Apothekerseife
den letzten Schliff gab.
DAS ENDE DER APOTHEKERSEIFE?
Schon bald gehörte die
Saint Charles Apothekerseife
als
natürliche Flüssigseife
zum beliebtesten Produkt unserer Kunden in den Apotheken Wien und Berlin. Und sie wurde sehr bald von Freunden der Saint Charles Familie außerhalb der Apotheke entdeckt. Heute ist die
Saint Charles Apothekerseife
aus den Waschräumen ausgewählter Restaurants, wie bei Joseph Brot oder vielen anderen Wiener Szenelokalen nicht mehr wegzudenken. Und sie blickt in die Ferne... wie beispielsweise in Architekturbüros, Werbeagenturen oder Arztpraxen... oder zur Deantnerin - eine Skihütte der Sonderklasse am Hochkönig - wo sich die bodenständige
Saint Charles Apothekerseife
scheinbar recht wohl fühlt. Und wir sind uns sicher: Das ist noch lange nicht das Ende der Saint Charles Apothekerseife Geschichte.
Zur
Saint Charles Apothekerseife
gibt es auch den
Saint Charles Apothekerspray
. Dieser natürliche und reinigende Handspray ist als Erfrischung in den Handtaschen vieler Damen gleichermaßen beliebt. Natürlicher, erfrischender Duft, gepaart mit natürlichen, reinigungswirksamen Substanzen. Was könnte die Damenwelt mehr überzeugen... Die
Saint Charles Apothekerseife
und den
Saint Charles Apothekerspray
in unterschiedlichen Größen erhält man bei ausgewählten Partnern und in den Saint Charles Apotheken Wien und Berlin, sowie im Saint Charles Premium Onlinestore.
Falls Sie noch weitere Fragen zur Apothekerseife oder anderen Produkten haben, sind wir selbstverständlich für Sie da. Kontaktieren Sie uns
hier
ganz einfach dafür, wir freuen uns auf Ihre Anfrage.