Saint Charles Signature Cocktails
Our
Spirits Collection
combines the centuries-old
tradition and knowledge of the apothecary trade
of alcohol-based herbal extracts from the regional plant world, which our ancestors already knew how to use as a remedy. This ancient knowledge has been reinterpreted in the "Spirits Collection" by Saint Charles with a lot of passion and with local partners. All botanicals used contain a powerful charge of
regionality
and come partly from
wild collection
. The spirits can be enjoyed classically pure, but are also wonderfully mixed in cocktails. Let our favourite serving suggestions for our four spirits inspire you - Cheers!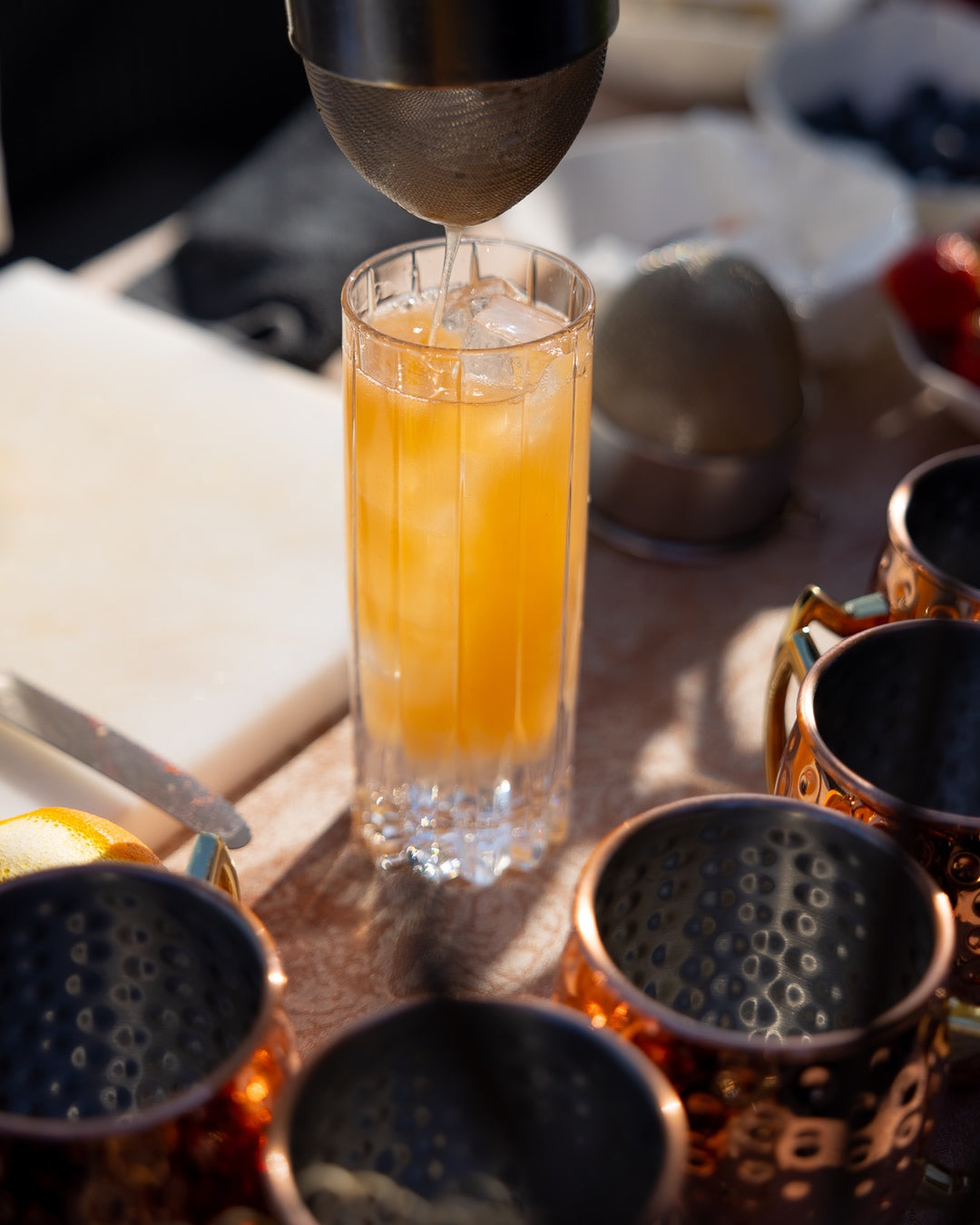 APOTHEKER G&T SPECIAL
2 cl SC Apotheker Gin
2 cl SC Apotheker Bitter
200ml tonic water
large orange zest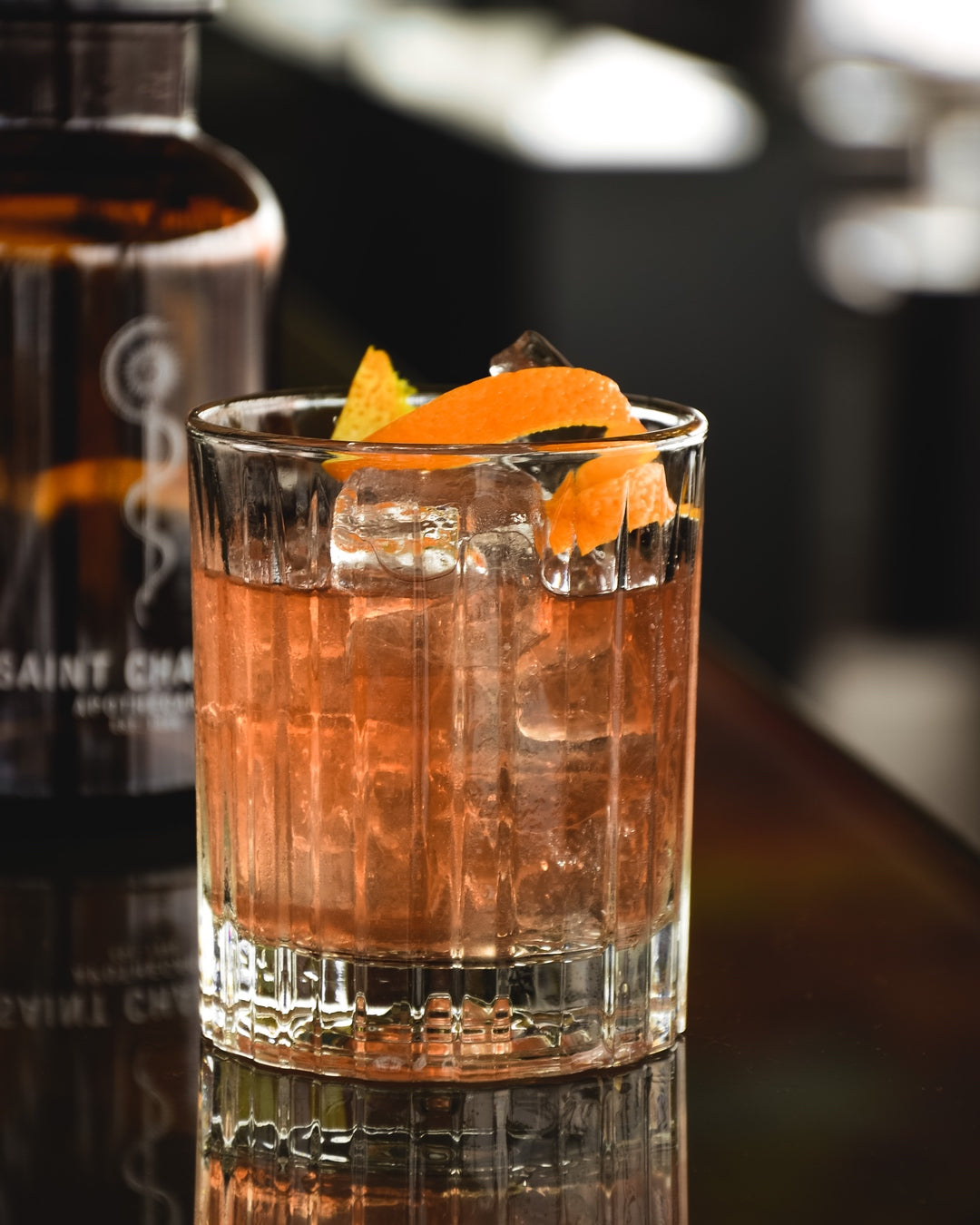 APOTHEKER NEGRONI
3cl SC Apothecary Amaro
3cl SC Apothecary Vermouth
3cl SC Apotheker Gin
Garnish with lemon zest
Option:
SC Digestive complex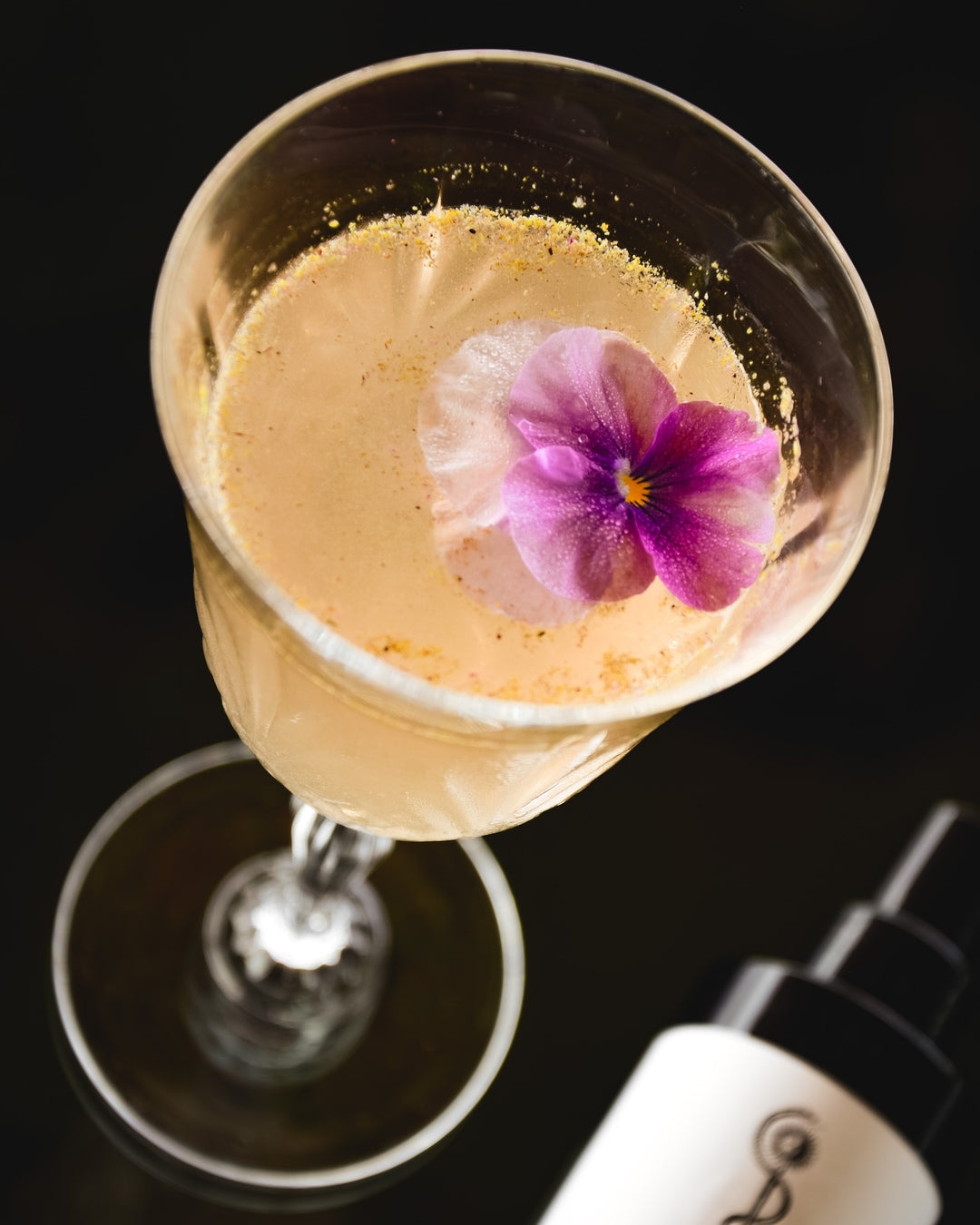 SLEEP WELL
6 cl SC Apotheker Gin
2 cl SC Apotheker Vermouth
2.5 cl agave syrup
SC Stress complex (shaken to here)
SC Lavender Hydrolate
Blossom
Option:
SC Sleep complex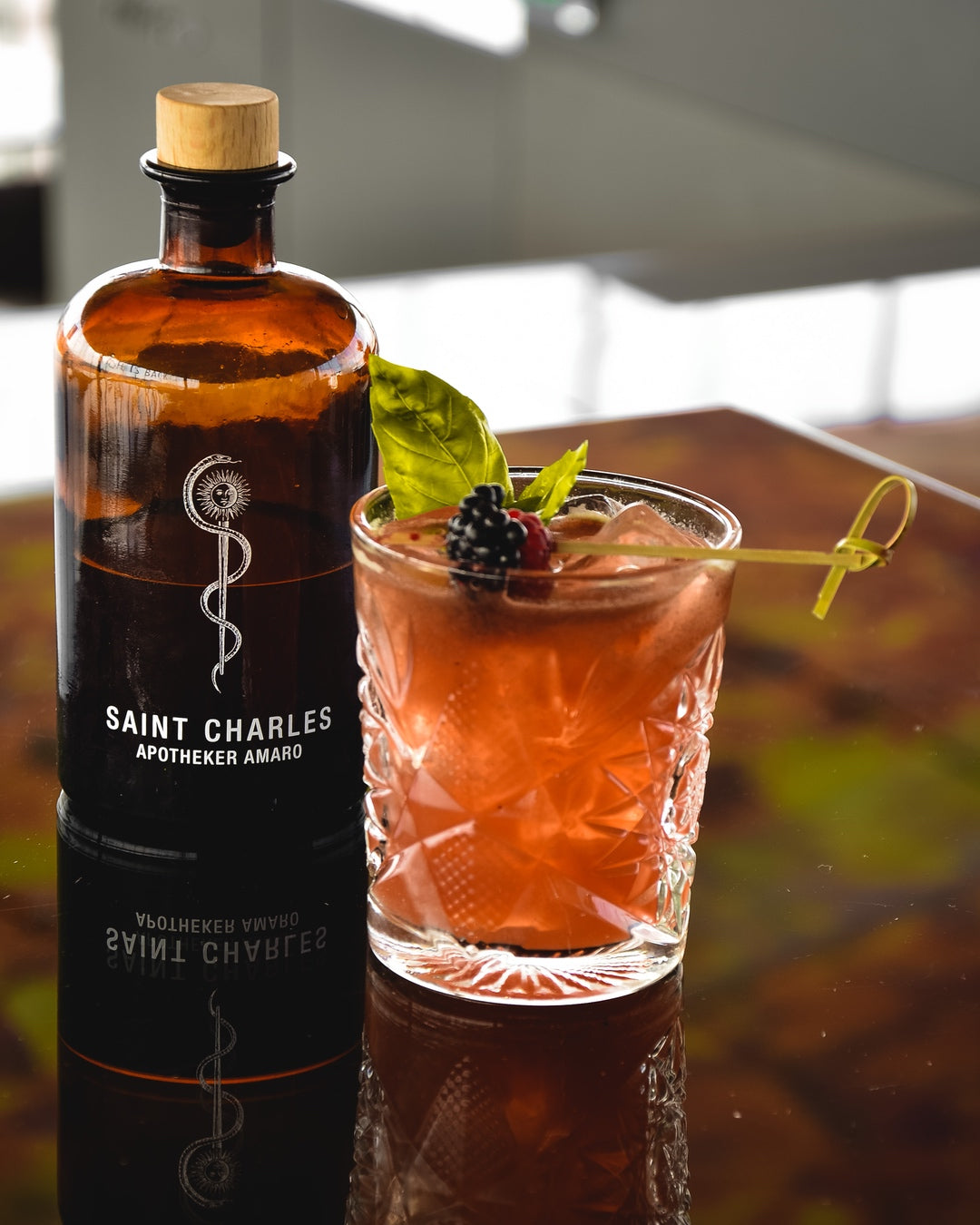 RELAX
3 cl SC Apotheker Amaro
3 cl Bourbon
3 drops SC Hemp CBD drops 10%
2 dashes maple syrup
some lime juice
Basil + different berries (3-4) shaken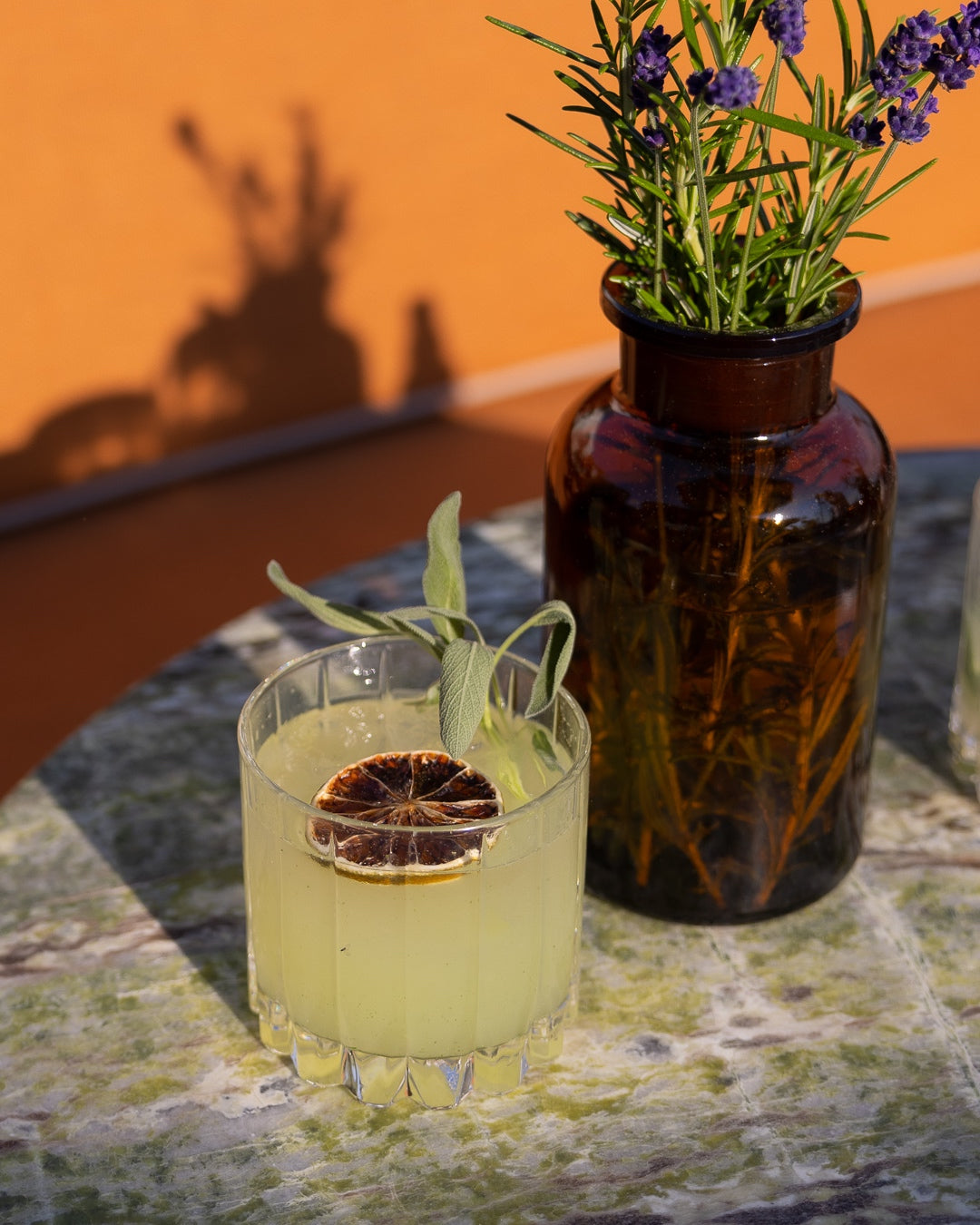 ANTI-STRESS
6 cl SC Apotheker Gin
3 cl lime juice
2,5 lemongrass syrup
8 leaves sage (shaken)
Option:
SC Stress or Mood complex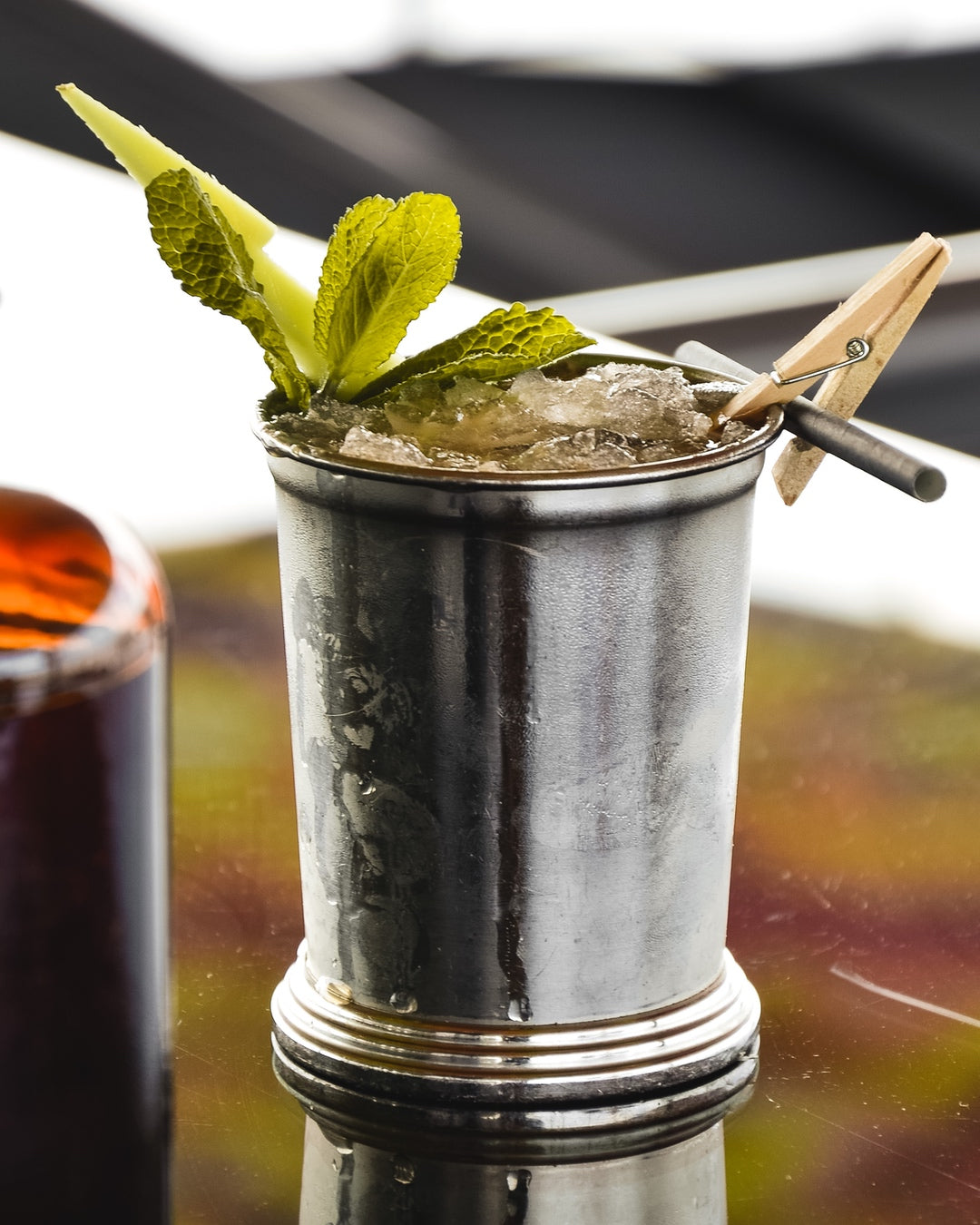 APOTHEKER MULE
4 cl SC Apotheker Bitter
Lime juice
Ginger Beer
Ice cube
Mint leaves
Ginger
Option:
SC UMK+ complex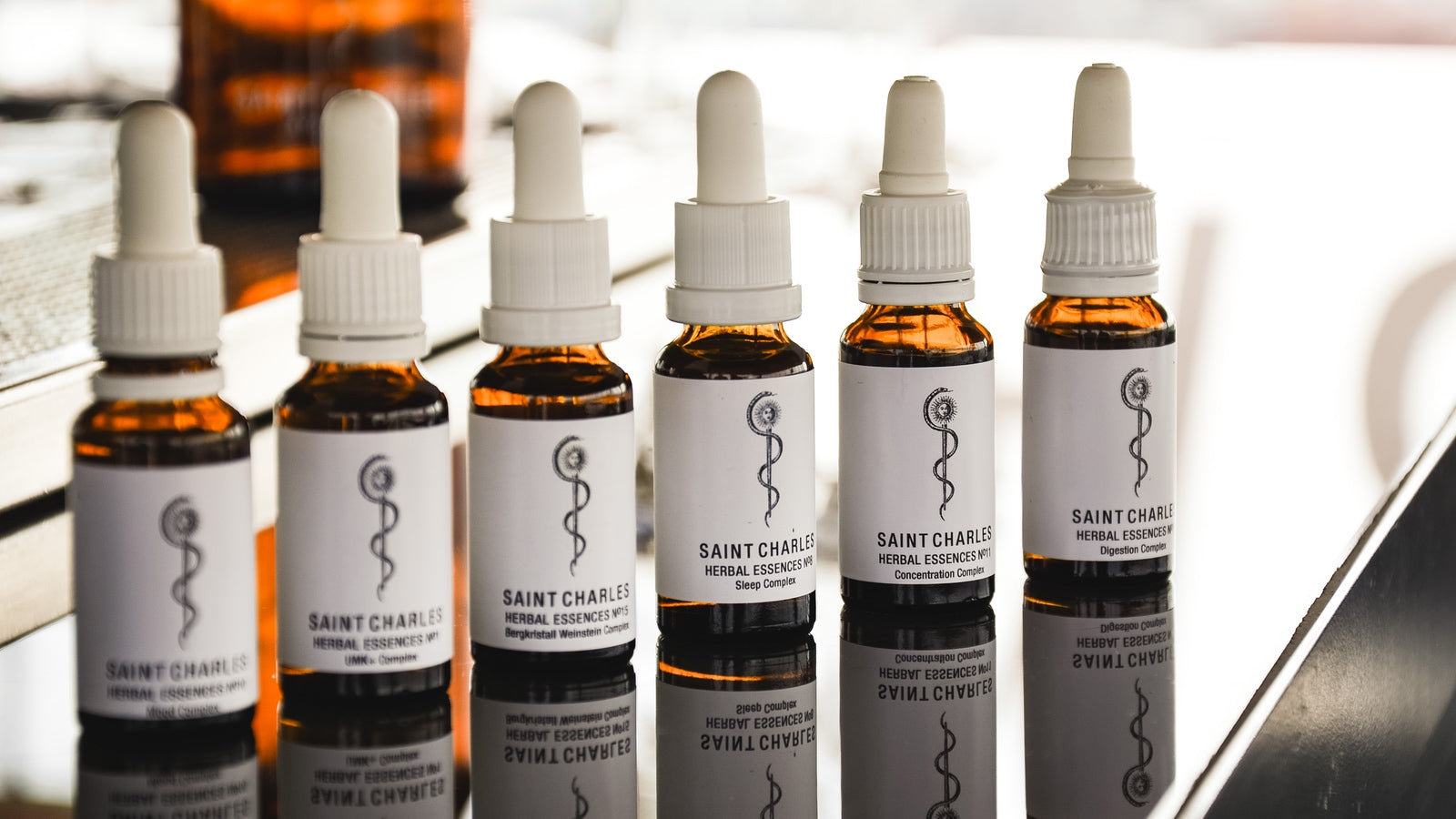 for Mixologists
Saint Charles Herbal Essences
Stress Complex, Mood Complex, Sleep Complex, Digestive Complex, Concentration Complex, UMK+ Complex, Rock Crystal/Wine Stone, Hemp CBD
Match with all Signature Cocktails. Add 5 drops as garnish.
Discover now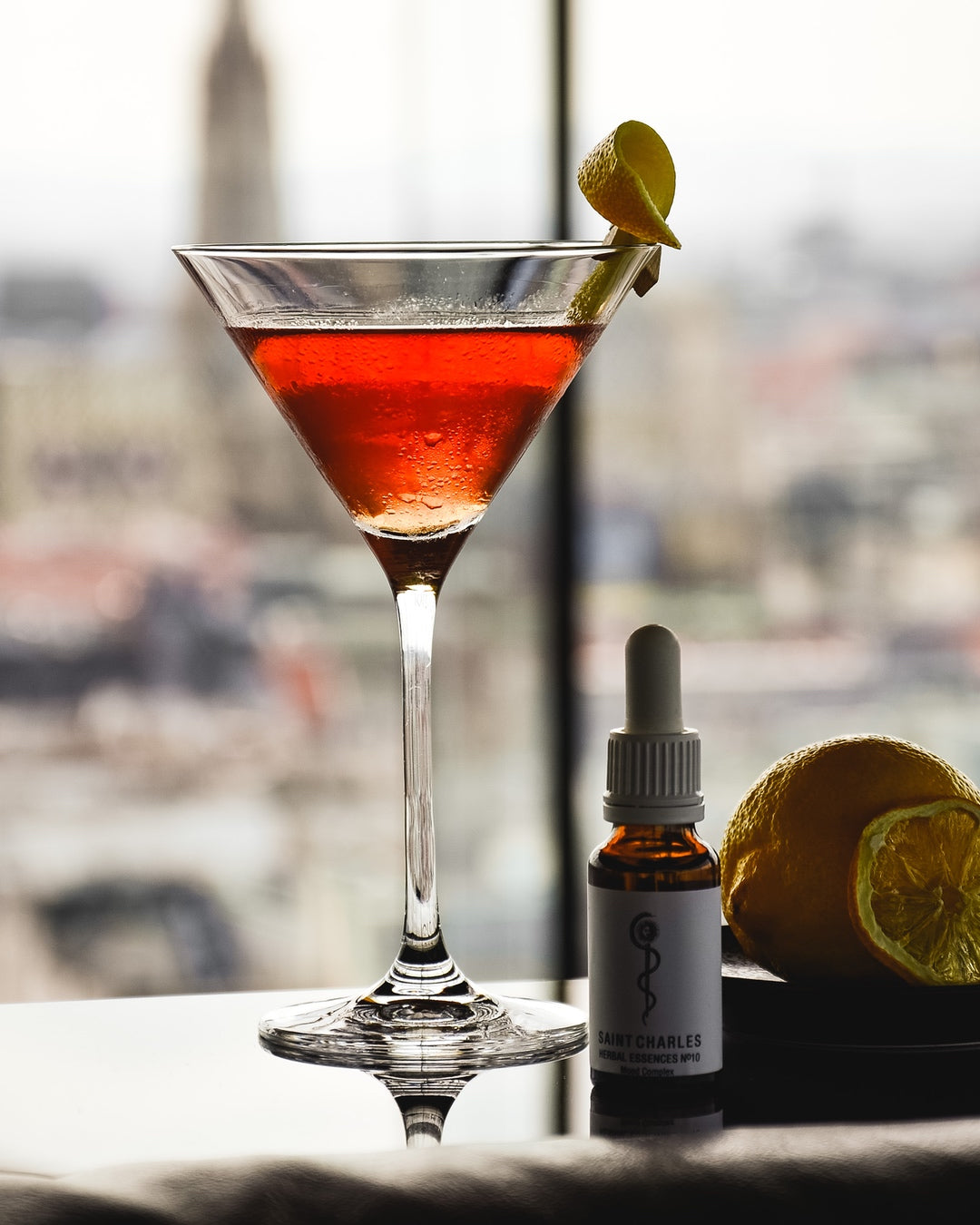 THE SENTIMENT
4 cl SC Apotheker Amaro
4 cl whisky, e.g. single malt
Lemon peel
Angostura bitters
Option:
SC Mood complex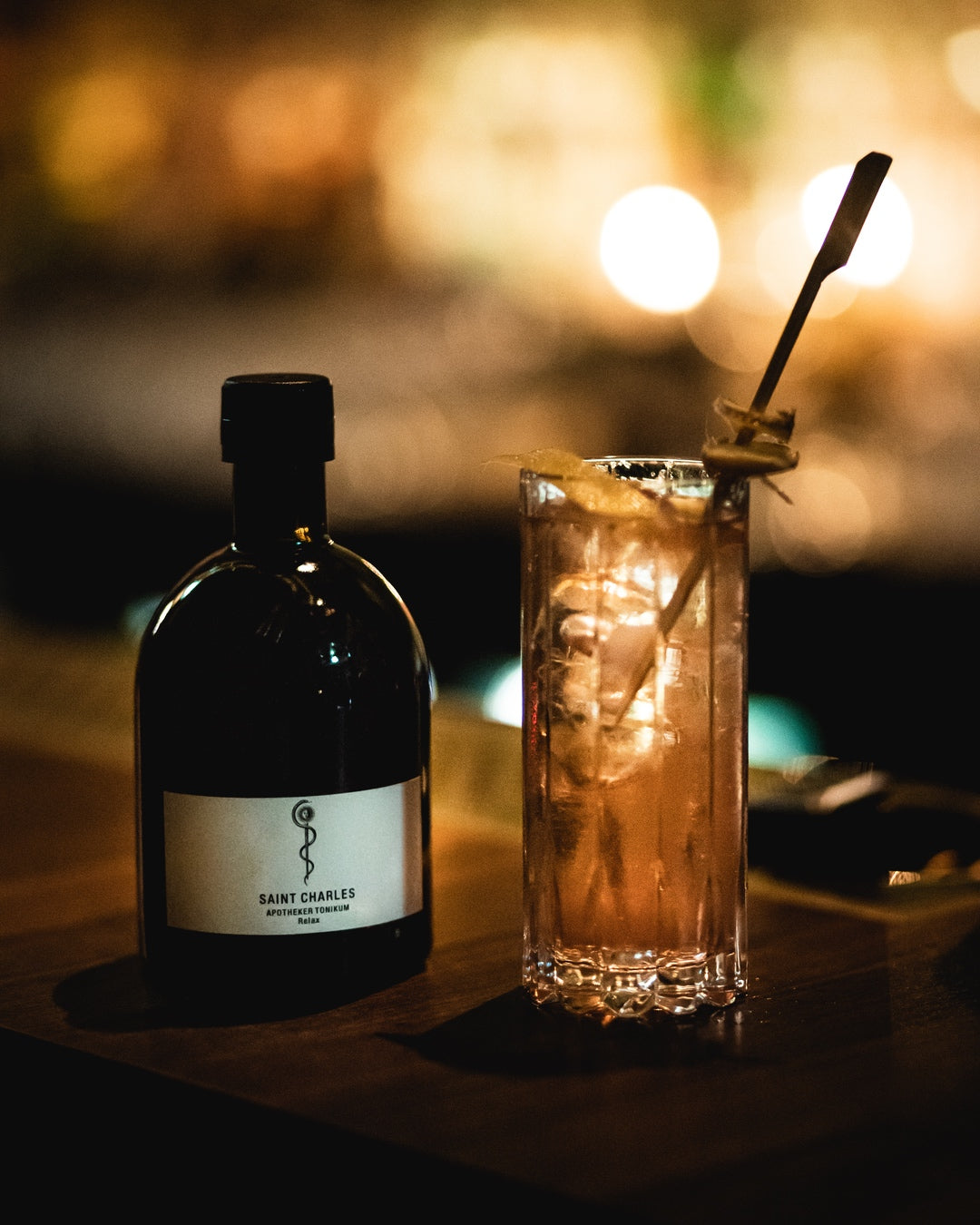 IMMUN-BOOST
6 cl SC Apotheker Vermouth
200 ml ginger ale
2 cl lemon juice
Ginger slice
Lemon peel
APOTHEKER AMARO SOUR
5 cl SC Apotheker Amaro
3 cl lemon juice
3 cl egg white / egg white (optional)
3 tsp lauter sugar
Ice cube
Orange zest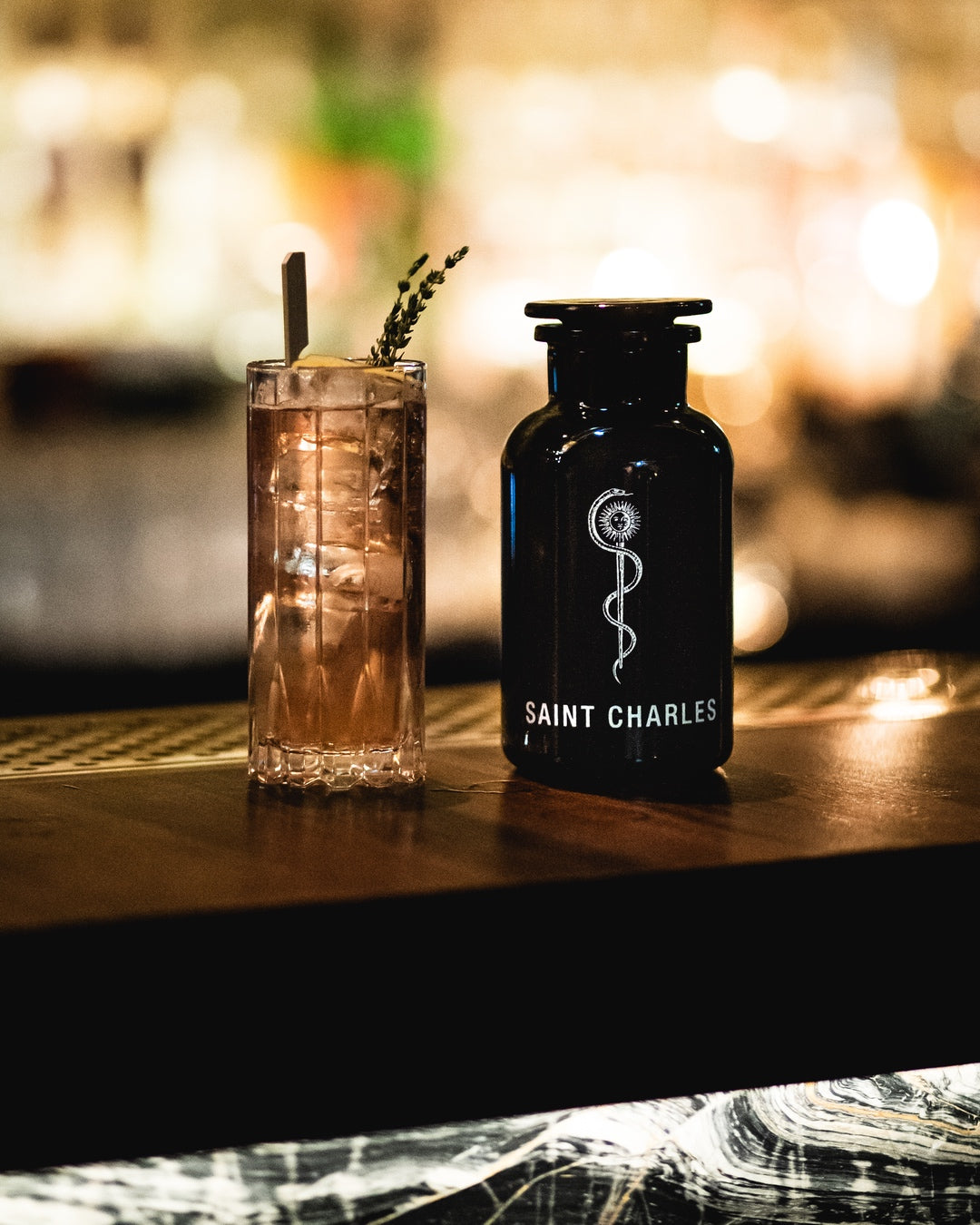 APOTHEKER WERMUT
6 cl SC Apotheker Vermouth
200 ml (Thomas Henry) tonic
Water
Slice of lemon
Rosemary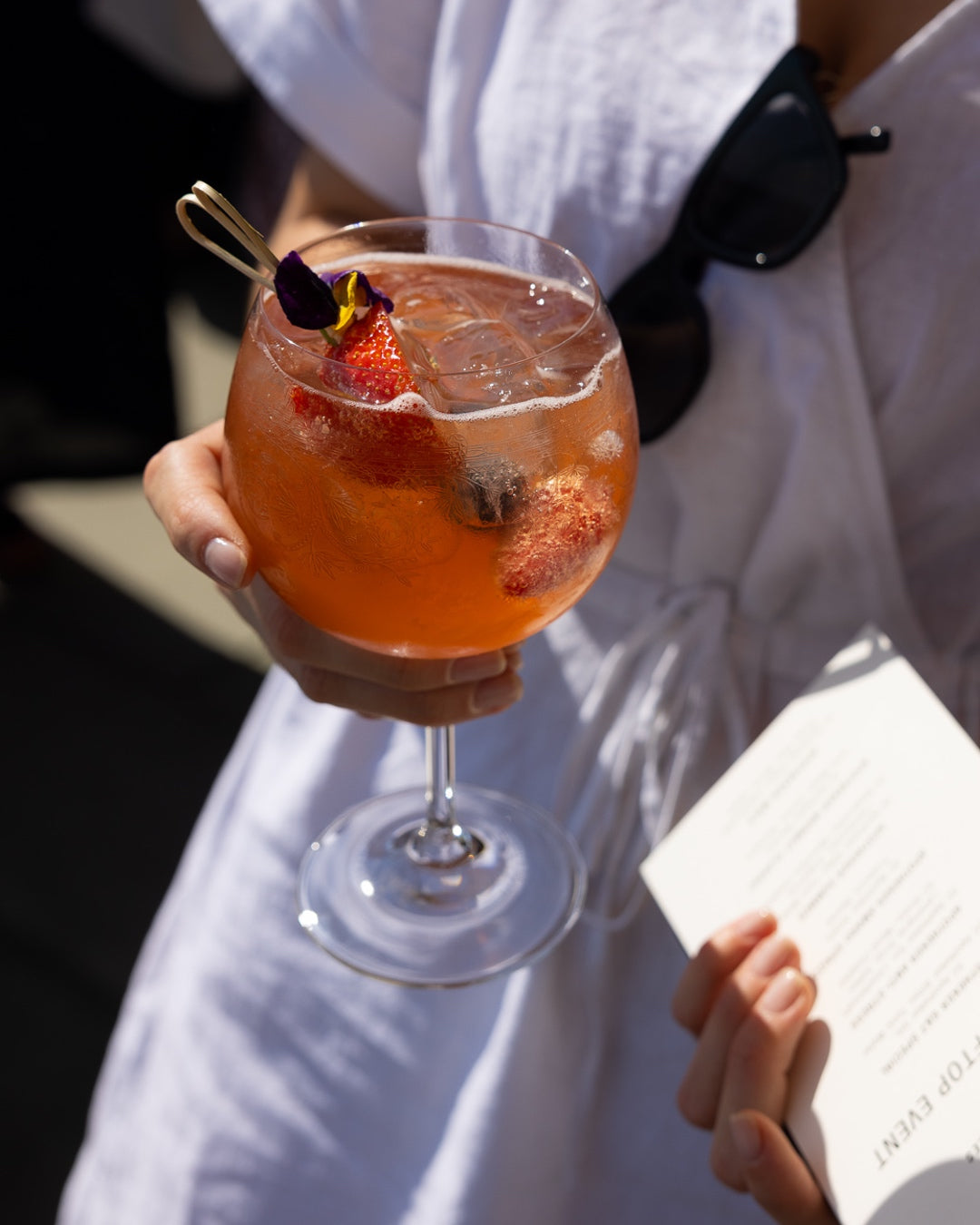 APOTHEKER AMARO SPRIZZ
5 cl SC Apotheker Amaro
4 cl Prosecco
Ice cube
gr. orange zest
Berries
Blossom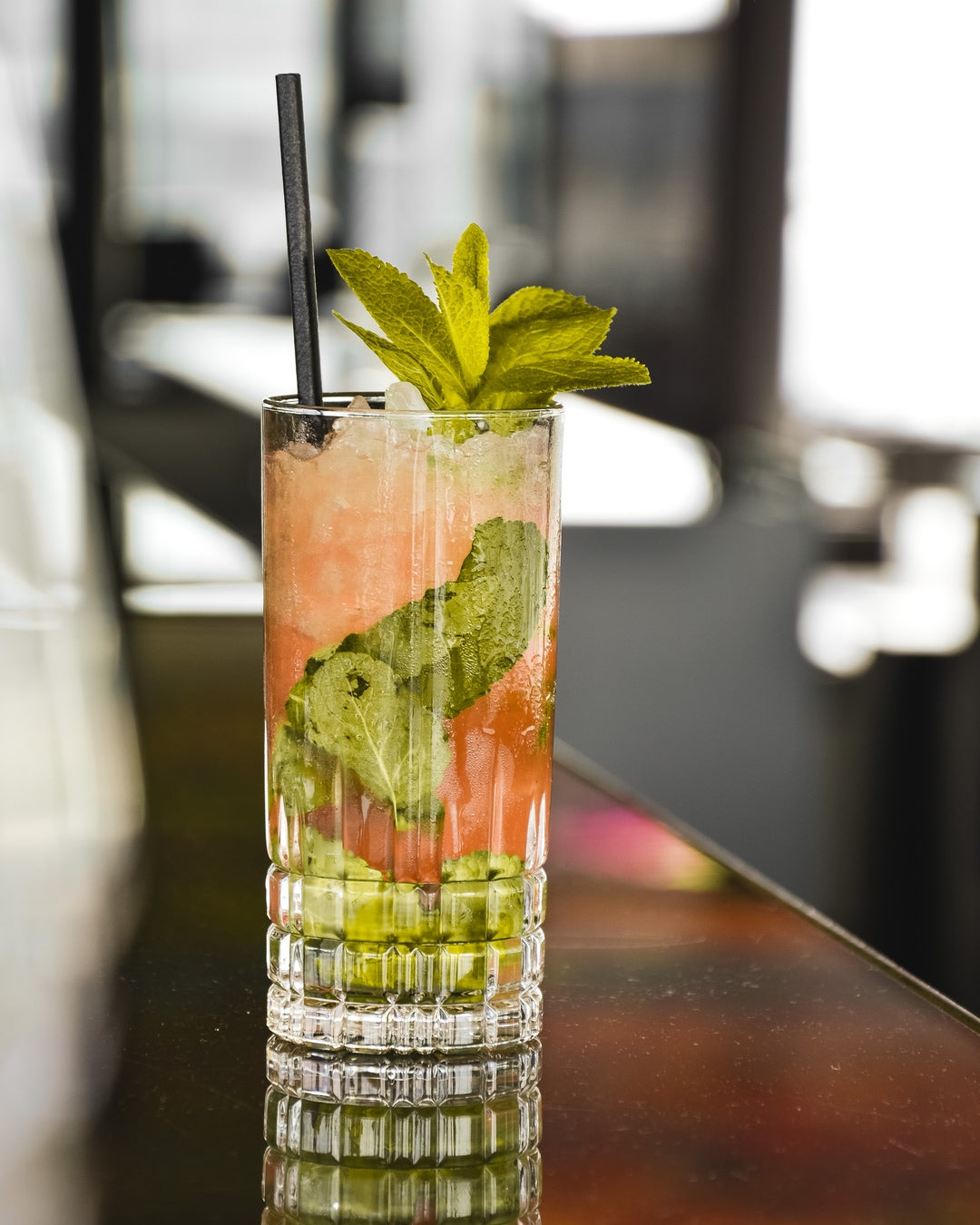 THE MINDFUL
5 cl SC Apothecary Amaro
2-3 mint leaves
Crushed ice
As an option: additional soda, 1⁄4 lime, cane sugar.
Option:
SC Concentration complex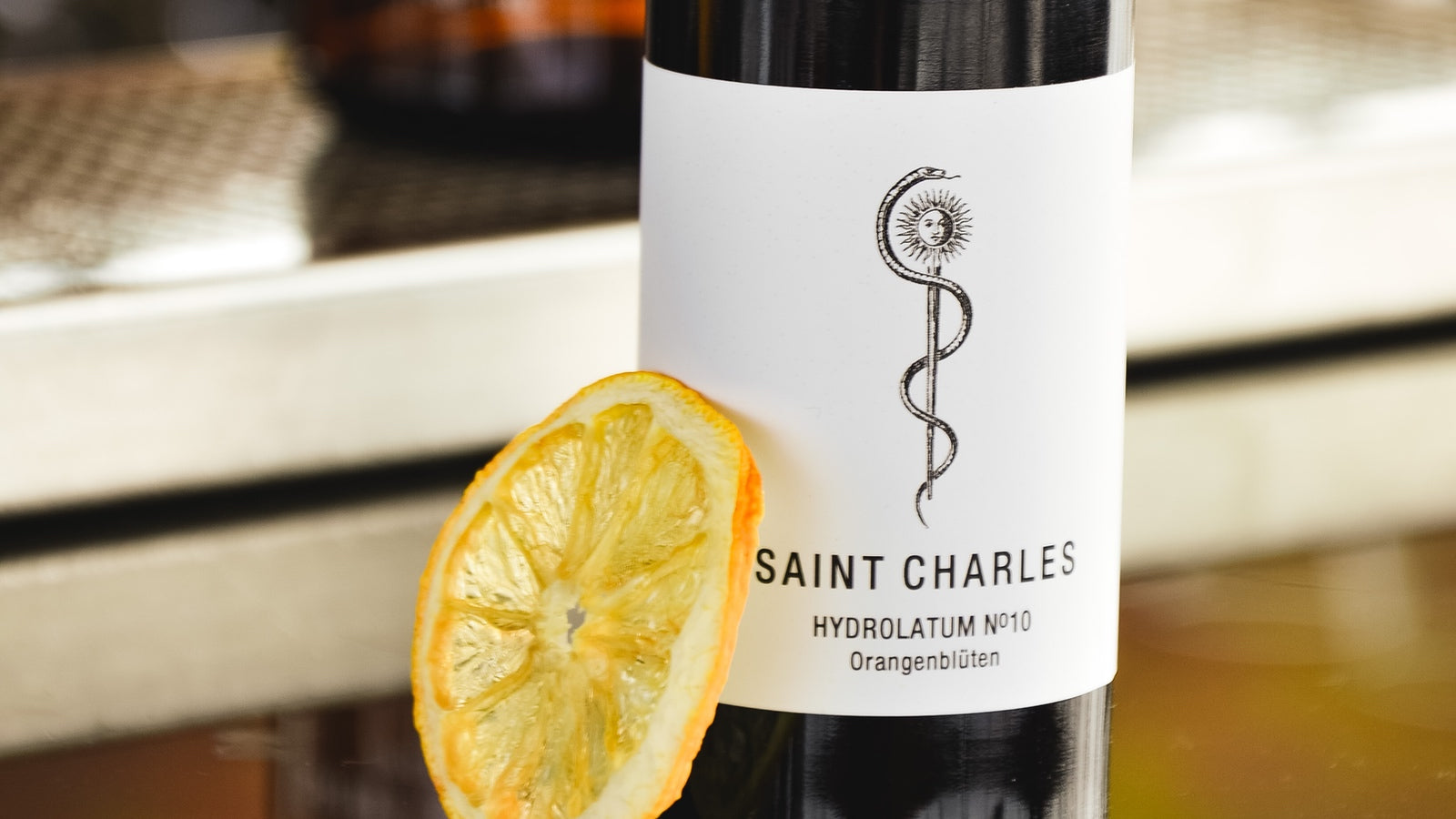 for Mixologists
Saint Charles Hydrates
Rose hydrolate, orange blossom hydrolate, elderberry hydrolate, lavender hydrolate
Matching all Signature Cocktails
Discover now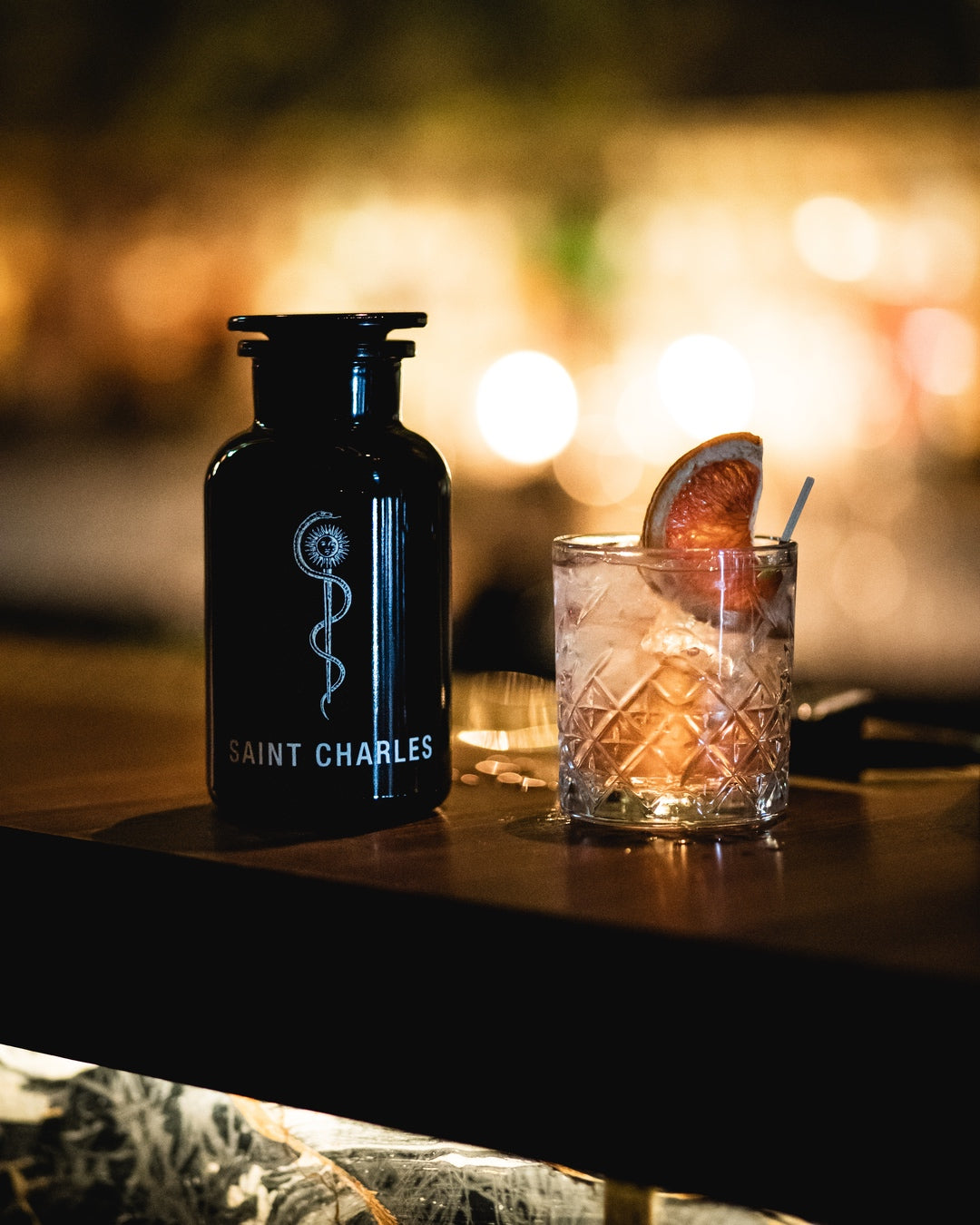 THE BOTANIST
6 cl SC Apotheker Vermouth
200 ml Fevertree "Aromatic Tonic
Orange slice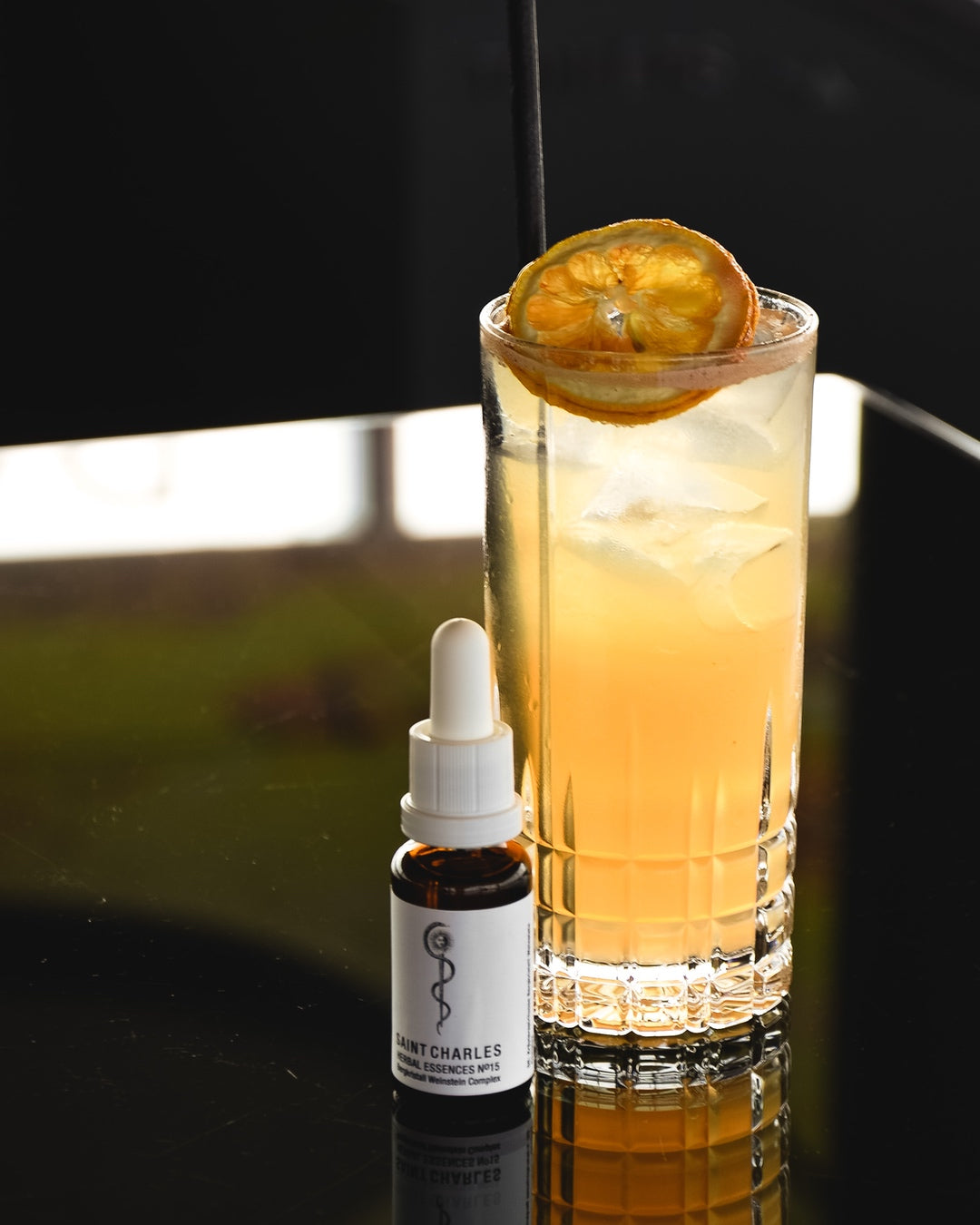 THE ALCHEMIST
4 cl SC Apotheker Bitter
200 ml tonic water
Lime juice
Agave syrup
Dried orange slice
Ice cubes
Optional: add grapefruit bitters
Optional: SC rock crystal/wine stone complex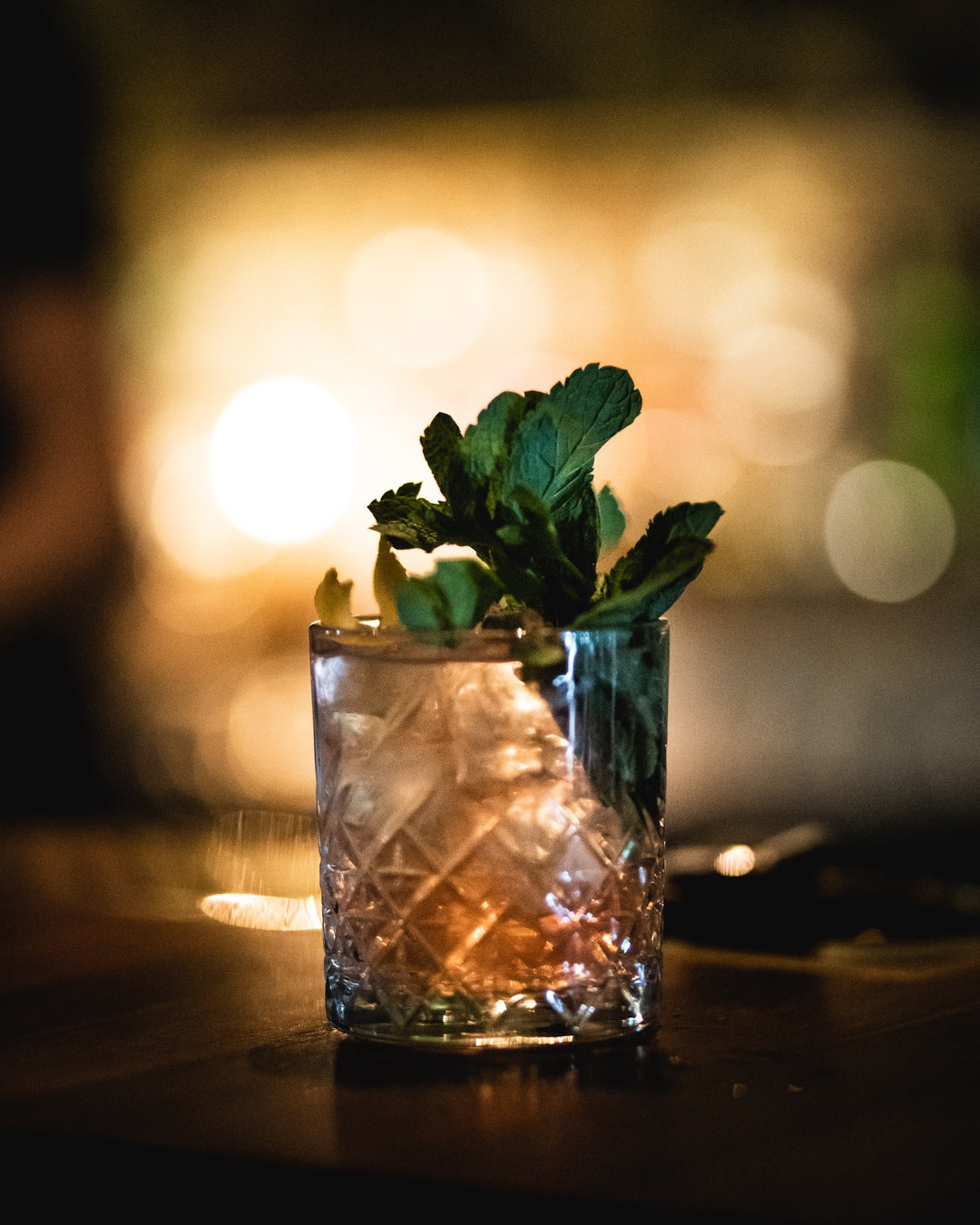 APOTHEKER BITTER LEMON
6 cl SC Apotheker Vermouth
200 ml bitter lemon
Slice of lemon
Mint leaves
Request test orders and prices