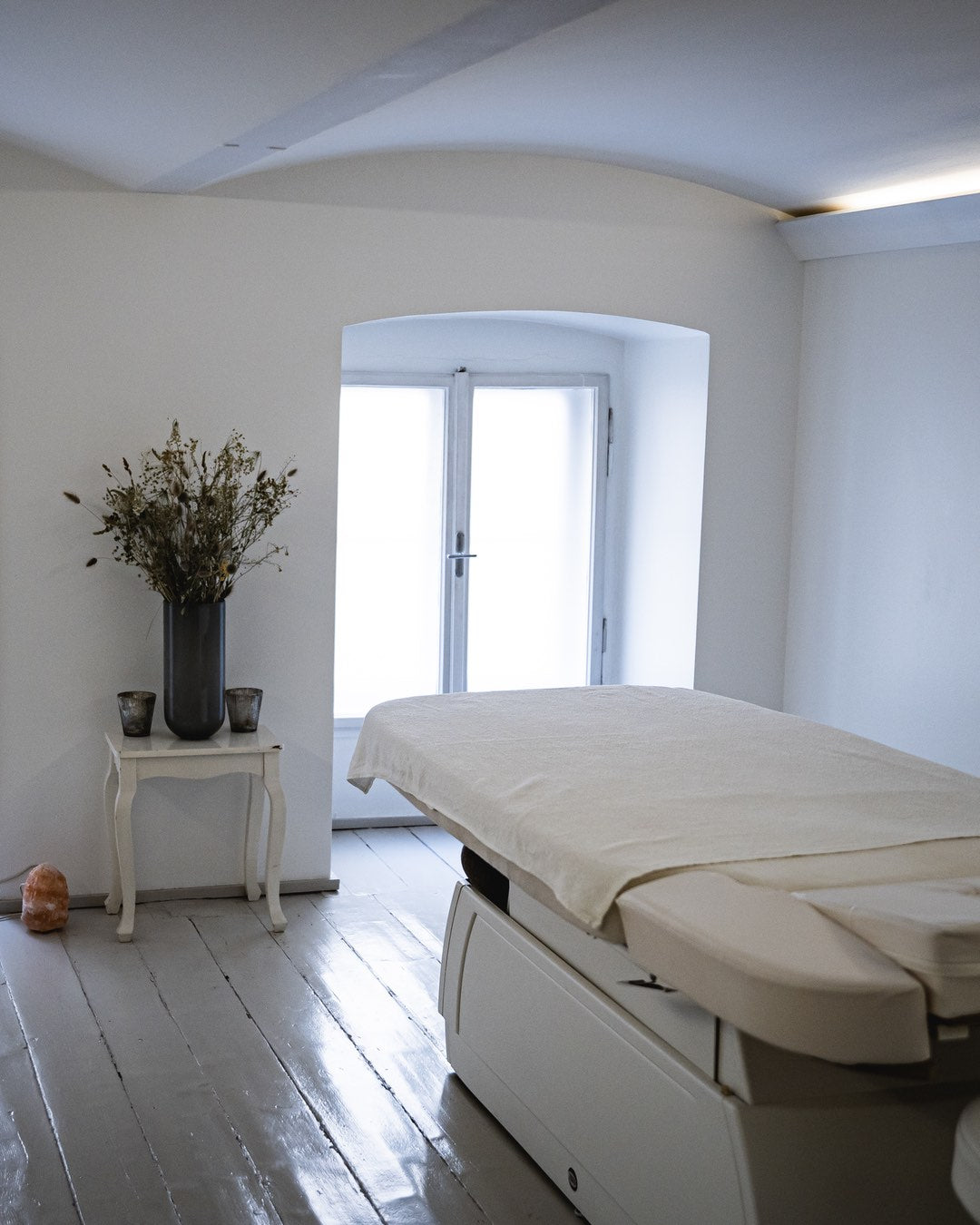 Saint Charles Hideaway Menu
FACE Ladies / Gentlemen
SAINT CHARLES
Natural + Holistic Treatments with the power of local herbs
60 Min. 120.00 I 90 Min. 155.00
THE ORGANIC PHARMACY
Luxurious natural cosmetics from London with pure natural ingredients
60 Min. 130.00 I 90 Min. 165.00
ESSE ORGANIC SKINCARE
Innovative probiotic skin care with natural plant ingredients
60 Min. 125.00 I 90 Min. 158.00
TEAM DR. JOSEPH
Finest high-tech natural cosmetics from South Tyrol
60 Min. 110.00 I 90 Min. 148.00
DR. HAUSCHKA
Classic holistic Demeter natural cosmetics
60 Min. 110.00 I 90 Min. 148.0
SANTA VERDE
Natural cosmetics with rich aloe vera juice
60 Min. 110.00 I 90 Min. 148.00
SAINT CHARLES FOR TEENAGERS/STUDENTS
Selected products from Saint Charles Hideaway. For young people up to 18 years old or students up to 25 years old upon presentation of a student ID
50 Min. 75.00
EXTRAS
Eyebrow coloring 15.00 I Eyelash coloring 15.00 I Eyebrow shaping 15.00
BODY Ladies / Gentlemen
DR. HAUSCHKA
Relaxing treatment for body and mind | The art of touch ideal also during pregnancy
80 min. € 130
SAINT CHARLES LUXURY
Relaxing luxury body treatment | Pure spa feeling
130 min. € 179
SAINT CHARLES ENERGETIC WELFARE TREATMENT
Relaxing full body ritual with highly effective body oils
60 min. € 105
SAINT CHARLES MAGNESIUM TREATMENTS
With high-quality, effective magnesium products from the Zechstein Sea
"SPORT": Muscle-relaxing | Regenerating | Circulation-enhancing
30 min. € 48
"RELAX": Relaxing | Regenerating | Nerve-strengthening
60 min. € 95
SAINT CHARLES CLEANSING BACK TREATMENT
Includes cleansing, steam, purification and a soothing mask with healing clay
30 min. € 48
SAINT CHARLES SPECIAL
Anti-stress treatment with the highest quality natural cosmetics | pure spa feeling
80 min. € 149
TEAM DR. JOSEPH
Botancial Spa from South Tyrol | a new generation of body care Detoxifying Cellulite Treatment
60 min. € 115
Cancellation policy: We kindly ask you to cancel or reschedule at least 48 hours before the reserved date. Cancellation up to 24 hours before the appointment is free of charge. Cancellations, postponements on the same day or no-shows will unfortunately be charged in full.
To welcome you to our SAINT CHARLES Hideaway. We are exclusively here for you and are happy to advise you on the selection of your treatments.
You can reach us at: +43 (0) 676 58 61 366 or cosmothecary6@saint.info

Do you need to cancel or reschedule your beauty appointment?
You can cancel or reschedule free of charge up to 24 hours before the scheduled appointment. For cancellations less than 24 hours before the scheduled appointment or failure to show up without notice, we will charge 100% of the treatment cost for the reserved time and therapist. Please note that messages left on our phone and email from Saturday 4:00 pm to Monday 9:00 am, as well as on holidays, cannot be heard or read.

To continue your SAINT CHARLES Hideaway experience at home, all products you have discovered during your treatments are available in our SAINT CHARLES Cosmothecary.
We are happy to assist you in making your selection.