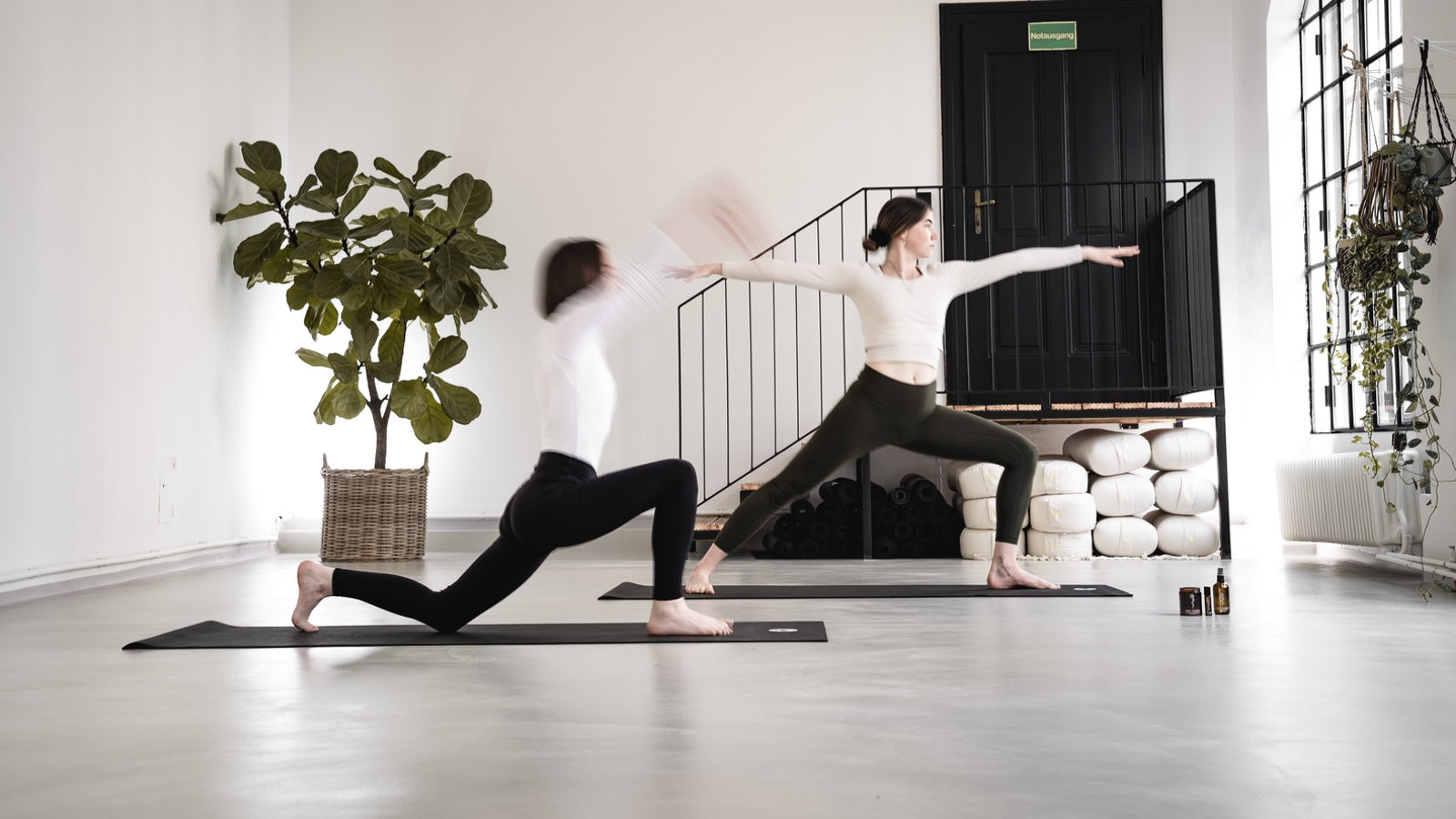 Yoga Oils
Since the beginning of 2018, our Saint Charles yoga mat spray has been a fixed part of the Saint Charles range. The new Saint Charles Yoga series Rising Heart and Deep Roots are based on the knowledge of the holistic power of aromatherapy using naturally pure essential oils. Carefully combined organic oils help to relax, balance or activate body, mind and soul. The natural oil blends accompany yoga and meditation practice as well as individual care routines.
Seit Anfang 2018 gehört unser Saint Charles
Yogamattenspray
zum fixen Bestandteil des Saint Charles Sortiments. Wie kommt es, dass eine Apotheke Yoga Produkte entwickelt? Und wie kann unser Wissen über
Aromatherapie
bei Deiner
Yoga Praxis
unterstützend wirken? Antworten auf diese Fragen gibt es in
diesem
Blog Artikel.
Das erste Mal mit Yoga in Kontakt gekommen sind wir durch begeisterte Kunden und Yogis, die in einigen Yoga-Studios in Wien auf unsere Apothekerseife aufmerksam geworden sind. Motiviert durch dieses tolle Feedback und der Erkenntnis, dass es noch keinen 100% natürlichen, wohlduftenden Yogamattenspray gab, haben wir beschlossen, ein eigenes Produkt für Yogis zu kreieren: Der Saint Charles
Yogamattenspray
war geboren. Dabei kommen als duftgebende Inhaltsstoffe ausschließlich naturreine ätherische Öle in Bio-Qualität zum Einsatz, die auch in unseren Apotheken im Rahmen der
Aromatherapie
empfohlen werden. Im nächsten Schritt erfreuten sich unsere bewährten Mischungen der
Aromatherapie-Apothekerserie
bei Yogastudios zunehmender Beliebtheit. Gerade in den letzten Jahren wurde die Olfaktorik und damit die Wirkung von Düften auf Psyche und Wohlbefinden von innovativen Yogis entdeckt. Die Mischungen
Mood Balance
,
Stress Guard
oder
Five Heroes
sind längst Teil der täglichen Yogaroutine bei vielen Partnern und Kunden. Eine noch intensivere Erfahrung ist nun mit den neuen Yoga-Produkten von Saint Charles möglich. Durch die einzigartige Kombination von
ätherischen Ölmischungen
in zwei verschiedenen Duftvarianten, sind die neuen Saint Charles Yoga Produkte wunderbar für jegliche Art von Meditations-und Yogapraxis geeignet. Perfekt auch im Alltag, für mehr Wohlgefühl, oder wenn die Stimmung danach verlangt.
Die Saint Charles Yoga Serien basieren auf dem Wissen der ganzheitlichen Kraft der Aromatherapie unter Verwendung von naturreinen,
. Sorgfältig kombinierte biologische
Yoga Duftöle
helfen dabei Körper, Geist und Seele zu entspannen, zu balancieren oder zu aktivieren. Die natürlichen
Ölmischungen
begleiten Dich in Deiner persönlichen Yoga- und Meditationspraxis sowie im Rahmen Deiner individuellen Pflegeroutine. Die neue Serie umfasst ein Yoga Body Oil mit Jojoba- und Arganöl für die Gesichts- oder Körperpflege, einen Yoga Body Spray, der auch als Raumspray verwendet werden kann, und ein Yoga Perfume Oil, der praktische Roll-On für die zielgenaue Anwendung. Jeweils erhältlich in zwei Duft- und Wirkvarianten:
Deep Roots
und
Rising Heart
. Die behutsam kombinierte Mischung aus wertvollen Ölen wie Rosenholz, Ylang-Ylang, Weihrauch, Patschuli und Wachholder erdet, gleicht aus und lässt Deine innere Balance einziehen.
Deep Roots
eignet sich perfekt zur Anwendung am Ende der Yoga- bzw. Meditationspraxis (Savasana) beim Abschalten und Runterkommen oder als harmonisierendes Pflegeprodukt in der täglichen Routine. Die liebevoll kombinierte Mischung aus wertvollen Ölen wie Bergamotte, Mandarine, Orange, Grapefruit und Vanilleextrakt aktiviert, lässt positive Energie fließen und schärft die Konzentration und Sinne.
Rising Hearts
eignet sich perfekt zur Anwendung am Beginn der Yoga- bzw Meditationspraxis und wirkt sich dabei positiv auf Deine achtsamen, zum Atem koordinierten Bewegungen (Asanas) aus, kann aber auch als Pflegeprodukt für ein positives Wohlbefinden nach der morgendlichen Dusche verwendet werden. Namasté – Die hundertprozentig naturreinen, biologischen
Yoga Ölmischungen
sind sowohl im Onlineshop als auch in unserer Apotheke in Wien und Berlin, sowie in ausgewählten Yoga-Studios erhältlich.
Falls Sie noch weitere Fragen zu unseren
ätherischen Yoga-Ölen
oder anderen Produkten haben, sind wir selbstverständlich für Sie da. Kontaktieren Sie uns
hier
ganz einfach dafür, wir freuen uns auf Ihre Anfrage.